Existing Home Sales
Although existing-home prices rose slightly in the month of June, sales actually eased during the period according to a recent report by the National Association of Realtors (NAR). Existing-home sales, which include recently purchased single family, townhomes, condominiums, and co-ops, dropped 0.8 percent to a seasonally adjusted annual rate of 4.77 million units nationally.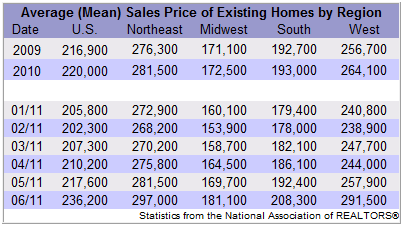 Lawrence Yun, NAR chief economist, sees bumps in the road. "Home sales had been trending up without a tax stimulus, but a variety of issues are weighing on the market including an unusual spike in contract cancellations in the past month," he said. "The underlying reason for elevated cancellations is unclear, but with problems including tight credit and low appraisals, 16 percent of NAR members report a sales contract was cancelled in June, up from 4 percent in May, which stands out in contrast with the pattern over the past year."
Total housing inventory rose 3.3 percent by the end of June to 3.77 million existing homes for sale. This represents a 9.5-month supply at today's current sales pace.
Home Financing
Freddie Mac reported that the national average commitment rate for a 30 year, fixed-rate conventional mortgage was 4.51 percent in June, down from 4.64 percent in May. Experts believe these low rates are fueling demand, but the strict lending guidelines are slowing recovery. NAR president Ron Phipps believes home sales should be higher. "Even with job creation below expectations, excessively tight loan standards are keeping many buyers from completing deals," Phipps said. "Although proposals being considered in Washington could effectively put more restrictions on lending, some banking executives have hinted that credit may return to more normal, safe standards in the not-too-distant future, but the tardiness of this process is holding back the recovery."
Despite the tighter lending guidelines, home buyers are finding ample funding available through local lenders. Contact us today for our list of preferred loan originators.
Property Disclosures Protect Buyers
Sellers are obligated by law to disclose certain known problems that could affect a home's desirability or value. This doesn't excuse buyers from exercising due diligence when discovering all they can about a property, however. Sellers are only obligated to share what they know. For this reason, a licensed REALTOR should be consulted when evaluating a property for purchase. Various issues such as lead paint, asbestos, and radon can seem intimidating, but they don't have to be deal breakers. Before making an offer on that next home, review the list of seller disclosures with your agent and determine the best course of action. A little homework here can add thousands of dollars to your bottom line!